SchooLinks is our district's comprehensive college or career readiness platform!
SchooLinks Staff Dashboard Welcome
Welcome to SchooLinks! We are so glad that you're here!
SchooLinks offers a robust assortment of college and career readiness services designed to help you and your students and built to tackle modern day education challenges. We help you bring the real world into your district and supercharge student interest in their futures with a student-first design. Our outcome-driven platform gives students ownership over their trajectory in and out of the classroom. Feel free to watch this video and start to click around and explore your SchooLinks dashboard.
Resources for Students at MCS Tech Help Center Webpage SchooLinks for Students
Teachers How to Complete Letters of Recommendation
In SchooLinks students will have college application manager that includes features for requesting teacher recommendation letters through the platform. This video will guide you as a Teacher how to complete the letter of recommendation requests in SchooLinks.
Counselors & Admin Self-Paced
#11655 SchooLinks: Getting Started (Counselors and Admin) Self-Paced in PD Catalog
This course is intended to introduce counselors, administrators, registrars, and other staff to SchooLinks. SchooLinks is our new district college and career readiness platform. This course covers the basics in the areas of Access, Students' first login, Career Assessments, Engagement Features, College Application Manager, Course Planner, and Final Review.
Note: Other courses are being created that are more centrally focused on other roles such as those associated with CTE/Careers, Teachers, and Students.
Register in PD Catalog to Get Started
(Job Required, does not qualify for 0.5% PD Incentive)
Teachers How to Add the SchooLinks Self-paced Course for your Students to your Schoology Course
Teachers can add a SchooLinks self-paced course to help their Senior Students get started with SchooLinks Onboarding, Requesting Transcripts, and College Application Manager. This video will show teachers how to add it to their course from Schoology Learning Resource Group to their Schoology Course(s).
SchooLinks Resource Center includes
Featured Content

1-Pagers

Blog Posts

Videos

and eBooks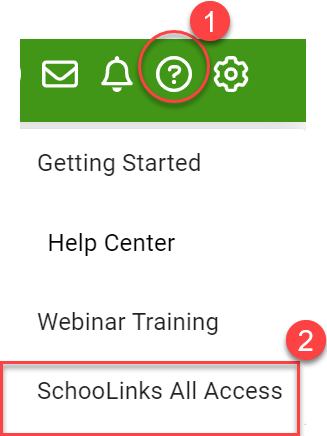 SchooLinnks All Access can be found in SchooLinks App
At the top right corner click on the ? question mark icon

On the menu click on SchooLinks All Access, this will take you to the VIP SchooLinnks All Access Website, you may need to click Sign In on the middle of this screen to get started
SchooLinks All Access is a community of educators, counselors, and administrators who are committed to using SchooLinks to help students succeed in college and career.
Features resources, curriculum, and training on:
Community of Educators sharing best practices and tips

Training

Work Based Learning

Career and Technical Education

College Planning and Financial Planning

Alumni

Academic and Personalized Planning

Elementary
SchooLinks All Access Mobile App for Staff
MCS Help Desk: Reach out to our Help Desk at HelpDesk@monet.k12.ca.us or by creating a ticket here using your MCS login credentials, or of course by simply clicking the "MCS Help Desk Portal" icon in the app portal!